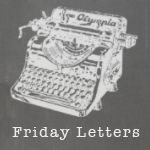 Dear Apartment
, I'm sorry I neglected you all week and that you're such a mess now. As soon as I hit publish on this post I will change that!
Dear Mailbox
, today is going to be a GREAT mail day! New Erin Condren planner, fall/winter Scentsy order, and a new going out/dress up coat! I can't wait :)
Dear 1st Exams of this Semester
, pretty please be nice on me next week! I need to "start" this semester off on the right foot!
Dear Law & Order: SVU Premier
, you BLEW MY MIND away last night! SO happy my favorite show is back!
My Dearest Husband
, TWO WEEKS/14 DAYS until you're home. I cannot believe it. It's really starting to sink in now that you've packed up all of your belongings and have started to clear Ft Polk. The next few months are going to be the best ones we've had in the last few years and I can't wait!