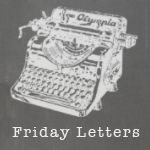 Dear Husband
, in THREE weeks we will be reunited FOR GOOD! Words cannot express how excited I am. You're never allowed to leave me for more than a weekend again you understand me?!
Dear Fall Semester
, you are killing me! I know that it's only going to get crazier, but please be nice to me.
Dear Online Shopping
, you are my favorite activity in the whole world but you're killing my bank account! I'm sorry, but we're going to need to cut ties soon.
Dear 2013 Erin Condren Planner
, you are on your way to me and I can't wait to get you! Who cares if I can't use you until January!
Dear blog
, I have so many post ideas planned out but no time to write them :( I'm going to work on changing that this weekend!